Today Julia had her first visit to the emergency room. She is OK, but has an infection in her left eye, so they are going to give her IV antibiotics.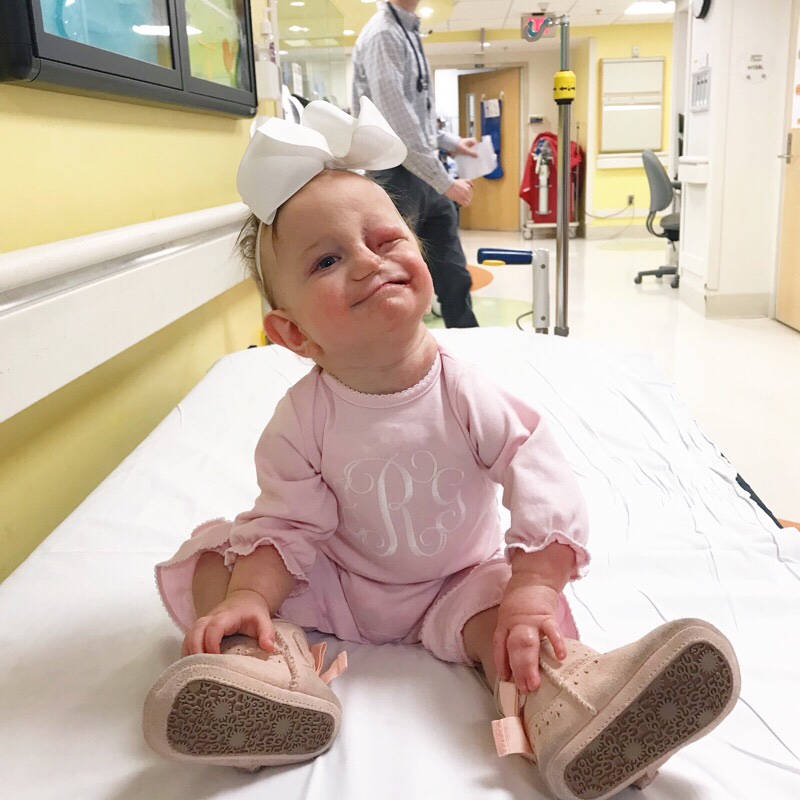 Thursday her left eye became swollen. We put some prescribed eye cream on it and it seemed better at the end of the day. When she woke up Friday morning everything seemed fine, but after breakfast she started rubbing it and her eye became very swollen. I put a call in to her ophthalmologist at MUSC, but quickly grew impatient when nobody called me back.
Next up was the pediatrician. I gave them a call and was able to be seen in 30 minutes. The pediatrician checked everything out and recommended I take Julia to the Emergency Room. One of the main reasons was because she is already on two prescription medications – good ones at that – and she still got an infection in her eye. The pediatrician said they may want to do some imaging to make sure the infection didn't spread to behind her eye. So off we went.
Now in case anyone is living in a cave, it's flu season. An emergency room waiting area is the last place I want to bring an otherwise healthy child. Thankfully we were checked in pretty quickly and I opted to sit in a bed in the hallway of the ER to expedite being seen (we were called back in 5 minutes).
After explaining her symptoms and some history of everything related to Julia to a medical student and resident, I was told Ophthalmology had been told we were here and someone would be by to check her out. A couple of hours later the ER attending doctor came by and took a look at her. We were then told we could go home and just take another prescribed medication.
I again mentioned that Julia's pediatrician sent me here because she is already on two really good medications and felt Ophthalmology would want some imaging done to check her eye. We were then offered to have someone from Ophthalmology come take a look at Julia and see if they agreed with the attending doctor's plan. *Now didn't I say someone from Ophthalmology was already supposed to be coming to see her?! Apparently no matter what state you are in, this department is very hard to see (no pun intended).
Finally someone from Ophthalmology came to see Julia. After a thorough examination it was determined that Julia should be admitted overnight for IV antibiotics and to monitor her eye to make sure the infection does not spread. So we are hanging out at MUSC Children's Hospital tonight. Our fingers are crossed that the antibiotics will kick in and we can go home sometime tomorrow. For those of you who like the medical terms, we were told she has preseptal cellulitis. Thank you for keeping Julia in your thoughts and prayers! xoxo, Tori